Welcome to PNHP Oregon
Since 1980 over 400 Oregon physicians, nurses, and allied health professionals have joined PNHP to help create a national health system that serves all Americans. Many have also actively supported major health care reform in Oregon, such as the Oregon Health Plan in the 1990s and the Health Care Transformation legislation from 2009 through the present.
In 2009, 2010, and 2011, 8 PNHP-Oregon "Mad As Hell" doctors drew cumulative thousands of Americans to rallies across the nation for universal "everybody in, nobody out" health care.
Since 2010 Oregon State Representative (now Senator) Michael Dembrow has worked with PNHP and HCAO to write and introduce legislation that would enact publicly funded, universal health insurance in Oregon.
Since 2012 PNHP-Oregon has supported Health Care for All- Oregon (HCAO) with public speaking and monetary contributions for public education to bring comprehensive, publicly funded, universal health care to Oregon. PNHP-Oregon sponsors visits to Oregon by internationally recognized health care system scholars: Arnold Relman MD and Marcia Angell MD in 2012; Gerald Friedman PhD in 2014;
and then T. R. Reid in July of 2015. Mr. Reid met with PNHP-Oregon members at a physician's home in Portland, spoke to audiences at OHSU, the Salem City Club, Linn-Benton Community College, and at the Portland City Club Member-Led Forum.
The Affordable Care Act allows states to devise plans that meet or exceed the coverage levels of the ACA starting in 2017, so publicly funded, universal health care in Oregon is now a real possibility. Transforming this possibility into a reality will require a powerful voice from the medical community. Now is the time to add your support for our movement. By clicking on the link below you will see the names and home-towns of 133 of our Oregon colleagues who since January, 2014, have signed a statement of support for publicly funded single payer health care for Oregon. Please sign our statement of support here.
Dr. Samuel Metz on Medicare for All
PNHP Oregon leader and retired anesthesiologist Dr. Samuel Metz provided an overview of Medicare for All, and answered questions as part of an Oct. 15, 2020 virtual house party.
---
Medicare for All Lawn Signs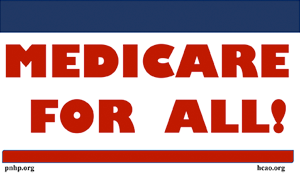 Oregon PNHP has produced lawn signs that say "Medicare For All!" In small print they say "hcao.org" and "pnhp.org." (Printed by a local union printer.) If you want one, please contact Ken Rosenberg (rosenbergkd@yahoo.com) and he will make arrangements for you to get a lawn sign.
Cost is a $15 donation to Oregon Physicians for a National Program; contribute here.
---
Publicly funded, universal healthcare can be a reality in Oregon, but only if we as health care providers speak in unision to demand it.
Click here to sign our statement of support.
---
Read the reaction of Drs. Steffie Woolhandler and David Himmelstein, PNHP's founders, to the announcement that Vermont would not be moving forward with its Green Mountain Care reform here.
---
Dr. Arnold S. Relman, professor emeritus of medicine and social medicine at Harvard Medical School, and past editor-in-chief of The New England Journal of Medicine, died on June 17, 2014. He was 91.
Dr. Relman was one of the most distinguished figures in U.S. medicine, and he leaves a rich legacy of research and writing on the economic, ethical, legal and social dimensions of health care.
Click here to read his compelling advice to physicians regarding their role in advocating for universal single payer health care.
---